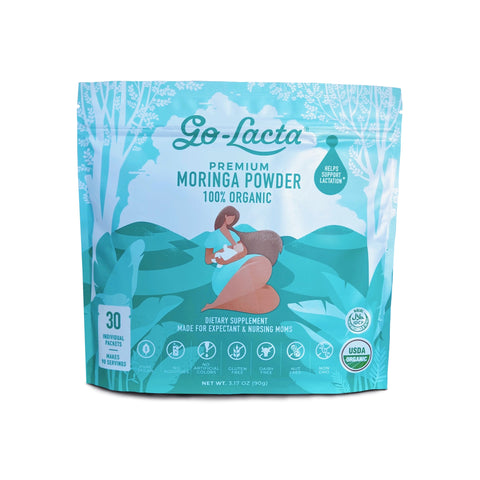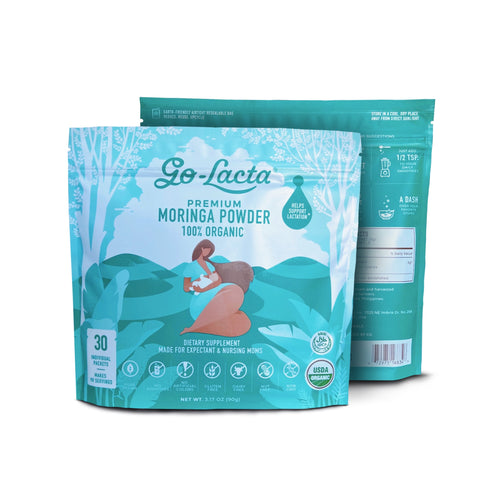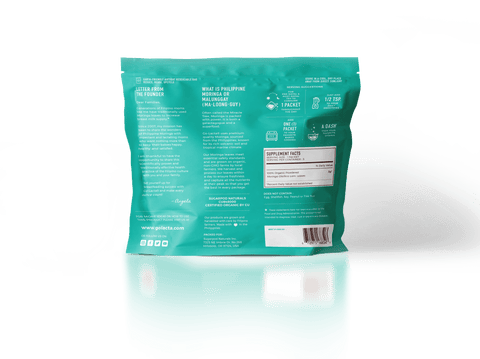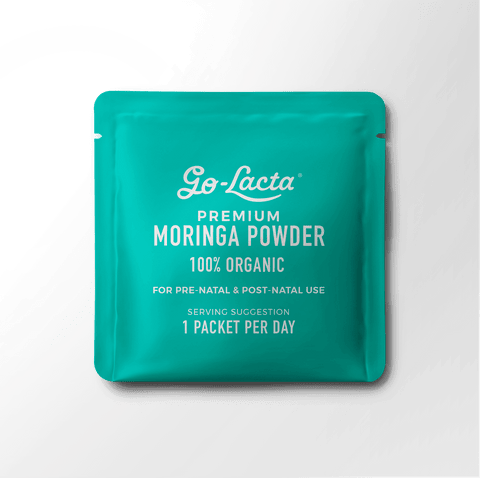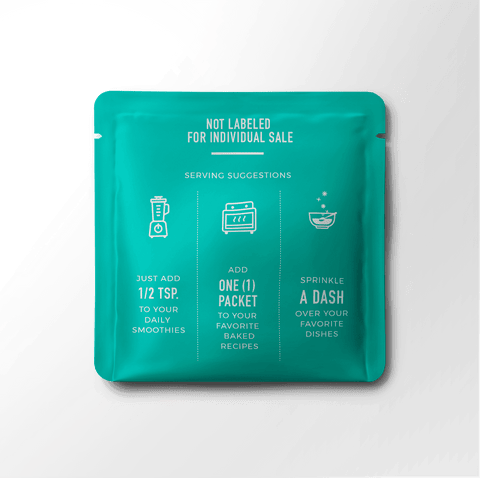 Lactation Moringa Superfood Powder
Our Go-Lacta Moringa powder is 100% natural Moringa leaves at its purest and most potent form. Perfectly pre-measured sachets are convenient to tote along anywhere. Whether you are eating out or cooking at home, our Go-Lacta Moringa powder will give you the confidence in boosting your breast milk supply.
Raw, powdered Moringa leaves are a sought after superfood, providing almost a complete array of vitamins, minerals and amino acids not normally found in a single source.
The entire family can enjoy the benefits of Moringa powder as a superfood. 
Ingredients
100% Raw organic powdered Moringa oleifera Lam. leaves
How to Use
Use 1 packet (3 grams) of Go-Lacta powder throughout your day.

Three Different ways to use throughout the day:

1 gram (approx. 1 tsp) of powder in a 16oz dark chocolate smoothie

1 gram (approx. 1 tsp) to 1 cup of yogurt snack or oatmeal bowl

1 gram (approx. 1 tsp) added to a cup of soup.
For prenatal care, get a head start and support your milk supply*. Take 1 packet throughout the day during pregnancy.

For postpartum care and to boost milk supply*, start with 1 packet divided in 3 meals throughout the day with food. You may take up to 2 packets throughout the day when added to full dishes and baked goods such as Moringa bread, Moringa pasta sauce, cookies, cakes and more.

For baby food, sprinkle on mashed banana or add ¼ tsp in baby's food.

*"These statements have not been evaluated by the Food and Drug Administration. This product is not intended to diagnose, treat, cure, or prevent any disease."

For health and wellness
Moringa is truly a superfood for health and wellness! It's packed with nutrients to support your body in many ways. For example, it contains iron to boost energy levels, Vitamin C to strengthen the immune system, and calcium to promote healthy bones and teeth.
But what makes Moringa truly unique is that it contains all nine essential amino acids. These amino acids are crucial for supporting the growth, repair, and maintenance of body tissues. By adding Go-Lacta powder to your family's meals, especially your baby's food, you can help support their healthy growth and development.

Why GoLacta is the best choice
Boosts lactation
Boosts Energy
Nutrient-Dense breast milk
Certified organic
Prenatal nourishment
Powerhouse Superfood
Recommended by professionals
Experience Premium Quality with Our Locally Grown Philippine Moringa
Our artisanal approach means we process our products in-house. This allows us to maintain complete control over every step of the process, from harvesting to cleaning, processing, and packaging. Our customers can trust us to deliver unmatched quality that speaks for itself. Don't take our word for it – try it for yourself and see the results!
Best ways to enjoy your Moringa
Nutrient-Rich Recipes to support your motherhood journey
From lactation cookies to baby's first food, boost your milk supply and create baby's nutrient-rich first food
FAQs
Answers for the most-commonly asked questions
Go-Lacta is made from premium quality Moringa leaves, a superfood known for its high nutrient content and traditional use in supporting lactation and breast milk production. Go-Lacta is 100% vegan, natural, and free from artificial additives, making it safe and effective for pregnant and breastfeeding mothers and their babies. The product is designed to be taken as a daily supplement to promote healthy lactation and support optimal milk supply. Additionally, it is an excellent source of nutrition for families to take, providing a variety of vitamins, minerals, and amino acids that support overall health and well-being.
Why is Go-Lacta the best choice for boosting milk supply?
Go-Lacta is carefully formulated with the well-being of both mother and baby in mind. Our premium Moringa leaves are sourced from the Philippines, where the soil and climate provide optimal nutrients for maternal and infant health. Our products exceed safety and quality standards, making them safe for pregnant and breastfeeding women, as well as for infants starting their first foods. Go-Lacta is a 100% vegan superfood, made purely from natural ingredients without any artificial processes, and is free from common allergens, making it especially ideal for baby's first food.

Can I take Go-Lacta before giving birth?
Go-Lacta is a nutrient-rich superfood that can be taken at any time before giving birth to provide essential nutrients for both mom and baby. Starting Go-Lacta during pregnancy is highly recommended to achieve optimal breastfeeding outcomes. Early preparation for breastfeeding can help your body fully develop its milk glands, especially in cases where the baby arrives prematurely. During the third trimester, the breasts will continue to increase in size as the milk glands develop in preparation for feeding the baby. By incorporating Go-Lacta into your diet, you can give yourself and your baby the added nutrition needed for a healthy breastfeeding journey.
If you have struggled with low milk supply in the past, Go-Lacta can provide a head start to ensure you and your baby have a successful breastfeeding journey.
To get started, we recommend taking 2 capsules of our 500mg formulation twice a day with food, and gradually increasing to 2 capsules three times a day with food as you approach your delivery date. This will help boost your breast milk supply as soon as your baby arrives.
As with any supplement, we recommend consulting with your healthcare professional before starting to take Go-Lacta, especially if you have any pre-existing health conditions or are taking any medications that may interact with the supplement.

Can I take Go-Lacta after I give birth?
Go-Lacta can be taken weeks or months after giving birth as long as you are breastfeeding. Since it is a natural galactagogue, it is highly effective in increasing breast milk supply. You will start to notice a significant increase in your milk production, which can help ensure that your baby is well-nourished.
It is important to note that while Go-Lacta is safe and natural, we recommend consulting with your healthcare professional before taking any supplements, especially if you have a health condition or are taking medications that could interact with the product.
I have given birth but struggling with low milk supply, what is my initial dose?
Every mom's breastfeeding journey is unique, and the amount of milk supply needed for her baby may vary. On average, we suggest starting with 2 capsules of Go-Lacta twice a day with food for the first 3 days. After that, you may increase the dosage to 2 capsules three times a day, and adjust as needed based on your lactation requirements. It's important to consult with your lactation consultant or healthcare professional as they are familiar with your individual situation and medical history. Once a healthy and preferred milk supply is achieved, you may find that you can gradually decrease the dosage.
Good for the mom and the baby
Increase in milk production
Days on average for mom to get additional boost in milk supply
Years of uplifting Filipino farmers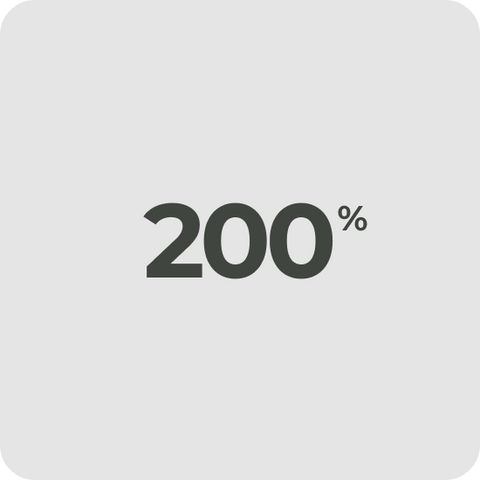 Helpful!
I don't have enough breast tissue to completely breastfeed but this helps me maximize what I have!
Lactation Moringa Leaf Capsules
Love Go-Lacta
I love all of the Go-lacta products so much, but my favorites are the capsules and the oil. The capsules are convenient and have helped my supply so much. I've also noticed that they make my milk fattier which has been great.
love the go-lacta!
I loved my first experience with the go-Lacta supplement - the pill doesn't have a weird taste which is great! to me it taste more like a matcha and I noticed that my milk was fattier which I love. I did notice an increase in my breast milk I ordered the smaller pack to be sure it would work and I wish I had ordered the bigger one!
Build a Gift Bag
Bundle up and get 10% off!
Bundle contents
select 4 items