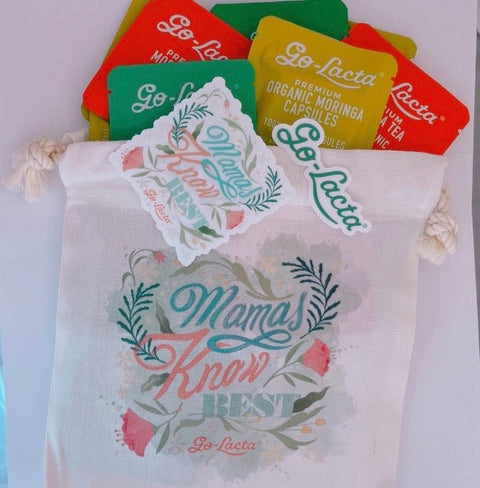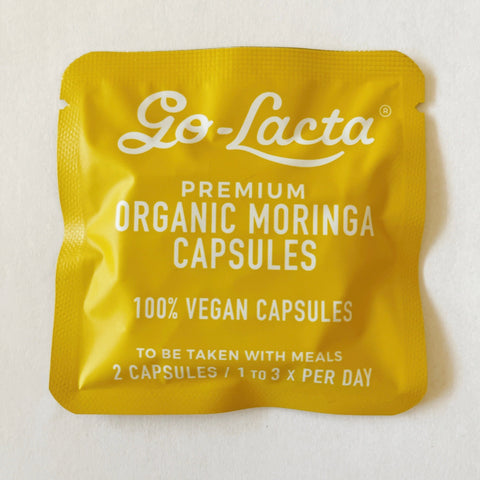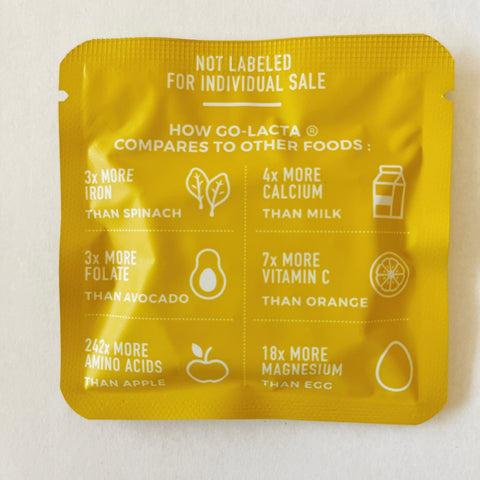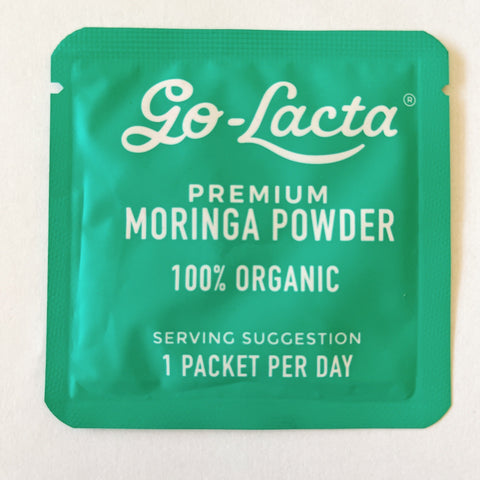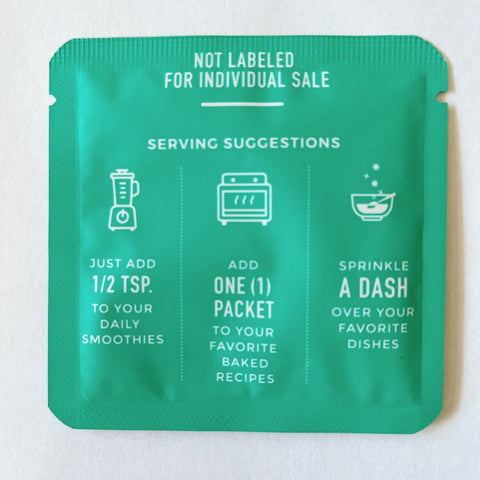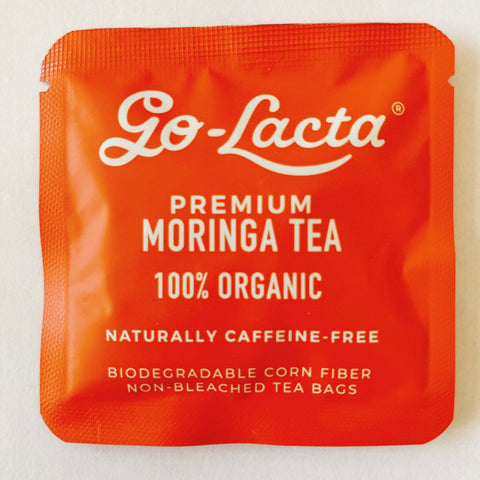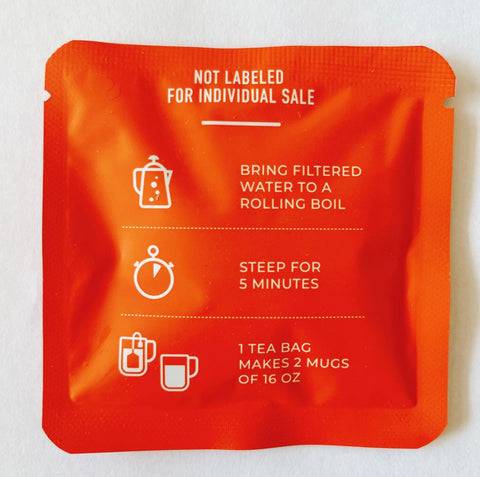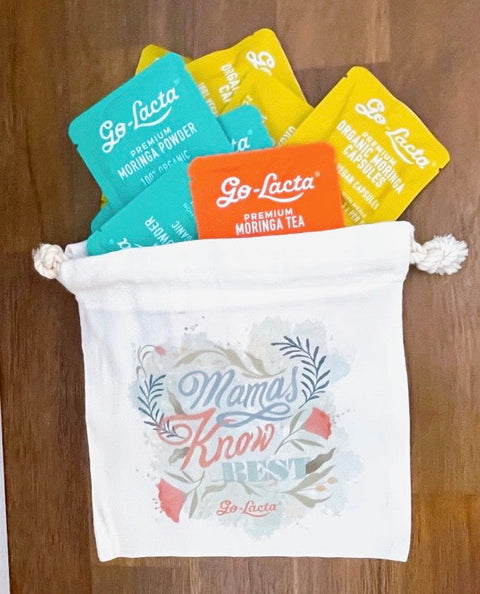 Lactation Boost Sample Packets
For a limited time, Special Trial sizes: USE CODE "go1sample" and get this pack for $5.00. Only 1 per person.

For moms who need would like to try some Go-Lacta samples.

You will receive the following:
3 sample powder packets

2 sample capsule packets (12 capsules each)

1 sample tea packet (each tea bag makes 32 ounces of tea)

Info cards

Pamphlets

Fliers

Bonus Combo Sticker
Recommendations:
2 capsules, two to three times a day with food.
Or the entire POWDER packet (3 grams) in distributed throughout the 1 day. If you are making too much milk, you can reduce the amount to about 1-2 grams a day.
Find some of our recipes (https://www.golacta.com/blogs/recipes) to enjoy with your powder or make your own recipes.
Why GoLacta is the best choice
Boosts lactation
Boosts Energy
Nutrient-Dense breast milk
Certified organic
Prenatal nourishment
Powerhouse Superfood
Recommended by professionals
Experience Premium Quality with Our Locally Grown Philippine Moringa
Our artisanal approach means we process our products in-house. This allows us to maintain complete control over every step of the process, from harvesting to cleaning, processing, and packaging. Our customers can trust us to deliver unmatched quality that speaks for itself. Don't take our word for it – try it for yourself and see the results!
Best ways to enjoy your Moringa
Nutrient-Rich Recipes to support your motherhood journey
From lactation cookies to baby's first food, boost your milk supply and create baby's nutrient-rich first food
FAQs
Answers for the most-commonly asked questions
Go-Lacta is made from premium quality Moringa leaves, a superfood known for its high nutrient content and traditional use in supporting lactation and breast milk production. Go-Lacta is 100% vegan, natural, and free from artificial additives, making it safe and effective for pregnant and breastfeeding mothers and their babies. The product is designed to be taken as a daily supplement to promote healthy lactation and support optimal milk supply. Additionally, it is an excellent source of nutrition for families to take, providing a variety of vitamins, minerals, and amino acids that support overall health and well-being.
Why is Go-Lacta the best choice for boosting milk supply?
Go-Lacta is carefully formulated with the well-being of both mother and baby in mind. Our premium Moringa leaves are sourced from the Philippines, where the soil and climate provide optimal nutrients for maternal and infant health. Our products exceed safety and quality standards, making them safe for pregnant and breastfeeding women, as well as for infants starting their first foods. Go-Lacta is a 100% vegan superfood, made purely from natural ingredients without any artificial processes, and is free from common allergens, making it especially ideal for baby's first food.

Can I take Go-Lacta before giving birth?
Go-Lacta is a nutrient-rich superfood that can be taken at any time before giving birth to provide essential nutrients for both mom and baby. Starting Go-Lacta during pregnancy is highly recommended to achieve optimal breastfeeding outcomes. Early preparation for breastfeeding can help your body fully develop its milk glands, especially in cases where the baby arrives prematurely. During the third trimester, the breasts will continue to increase in size as the milk glands develop in preparation for feeding the baby. By incorporating Go-Lacta into your diet, you can give yourself and your baby the added nutrition needed for a healthy breastfeeding journey.
If you have struggled with low milk supply in the past, Go-Lacta can provide a head start to ensure you and your baby have a successful breastfeeding journey.
To get started, we recommend taking 2 capsules of our 500mg formulation twice a day with food, and gradually increasing to 2 capsules three times a day with food as you approach your delivery date. This will help boost your breast milk supply as soon as your baby arrives.
As with any supplement, we recommend consulting with your healthcare professional before starting to take Go-Lacta, especially if you have any pre-existing health conditions or are taking any medications that may interact with the supplement.

Can I take Go-Lacta after I give birth?
Go-Lacta can be taken weeks or months after giving birth as long as you are breastfeeding. Since it is a natural galactagogue, it is highly effective in increasing breast milk supply. You will start to notice a significant increase in your milk production, which can help ensure that your baby is well-nourished.
It is important to note that while Go-Lacta is safe and natural, we recommend consulting with your healthcare professional before taking any supplements, especially if you have a health condition or are taking medications that could interact with the product.
I have given birth but struggling with low milk supply, what is my initial dose?
Every mom's breastfeeding journey is unique, and the amount of milk supply needed for her baby may vary. On average, we suggest starting with 2 capsules of Go-Lacta twice a day with food for the first 3 days. After that, you may increase the dosage to 2 capsules three times a day, and adjust as needed based on your lactation requirements. It's important to consult with your lactation consultant or healthcare professional as they are familiar with your individual situation and medical history. Once a healthy and preferred milk supply is achieved, you may find that you can gradually decrease the dosage.
Good for the mom and the baby
Increase in milk production
Days on average for mom to get additional boost in milk supply
Years of uplifting Filipino farmers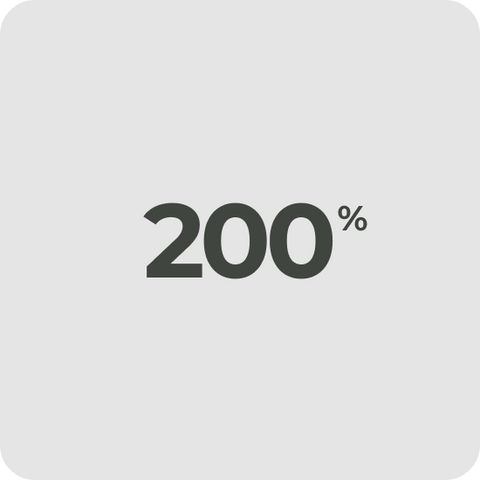 So far, so good!
I do believe my supply has upped a bit since I've tried the samples. The only downside is the bottle of moringa dry oil I ordered seems to be defective. It doesn't pump at all. So it's difficult to use, especially when my hands are full most of the time. Not sure if this is a normal error on the manufacturer's part or if I just got unlucky.
Hello Anneliese,
Thank you for your review. We're so sorry you're having difficulty with the oil. It is an airless pump which keeps the product's efficacy and prolongs its quality. It works as a a vacuum effect is created by the pumping action to extract the product. Please pump a few times and product will come out. Or if there may be a solid oil that is stuck in the opening, you may open the bottle and run warm water on the spout. Because it is an oil, when it's cold the oil solidifies but easily will turn liquid if you run warm water or hold it between your hands. This usually only happens in the winter or if it's around 60 degrees below.
We hope this helps. Kindly let us know how we can ssist you further.
Build a Gift Bag
Bundle up and get 10% off!
Bundle contents
select 4 items